For the U.S. economy, it's full steam ahead as GDP growth continues and the unemployment rate ticks further and further down. Coupled with this robust strength is an increased demand for goods. Whether they are purchased in stores or over the internet, goods usually take a ride on a truck at some point before they reach their final destination. So it should come as no surprise that freight truckers are experiencing a heyday, and their services are in huge demand.
10.5 billion tons of freight is moved annually in the U.S., which requires over 3.4 million heavy-duty Class 8 trucks and over 3.5 million truck drivers.[1] There is a real truck driver shortage as 90,000 new truckers must be hired each year to keep up with the demands of a strong economy.[2] Shipping companies are fiercely competing for drivers, and as a result, CDL truckers are seeing their wages skyrocket. The cost of paying these drivers more money translates directly into escalating freight costs.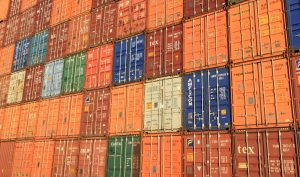 Further impacting shipping costs is the government's newly instituted ELD (electronic logging device) mandate, which eliminates the ability for truckers to falsify logs.[3] Consequently, goods will experience longer transit times, further reducing the availability of truckers. Also, hurricanes and disasters, which are becoming a common occurrence, also have an adverse impact on shipping freight prices, causing their averages to trend even higher.
It's important for businesses that rely on shipments to be aware of how container shipping costs will affect their bottom-line. Prices are going nowhere but up, so what is a business to do to keep expenses in check? Place bigger orders. By placing full load orders that maximize freight capacity, freighters will prioritize the shipment and get it out as fast as possible. This could speed up a business's workflow leading to lower operational costs.
Niagara wants to proactively inform businesses that they can diminish high shipping fees by placing large orders. In addition, it's critical to understand that this could affect customers that require drop trailers. Traditionally, drivers would drop their trailers at a construction site until a project is finished. With the current shortage, shippers can't afford to lose any capacity by leaving their trailers in a parking lot for a long period of time. This new shipping landscape is one of the unintended consequence of a surging U.S. economy.
Have questions about the future of freight and Niagara shipments? Contact us and we'll work together to resolve any challenges.
[1] http://www.trucking.org/News_and_Information_Reports_Industry_Data.aspx
[2] https://www.cbsnews.com/news/america-faces-shortage-truck-drivers/
[3]http://www.truckinginfo.com/channel/drivers/news/story/2017/12/trucking-alliance-applauds-trump-for-sticking-with-eld-rule.aspx
Back